Peak Ergonomics helps professionals grow and develop their ergonomic knowledge and skill set.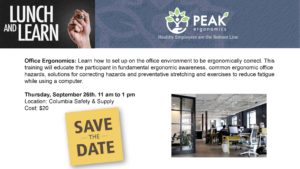 Office Ergonomics Lunch & Learn - Sept. 26 - Mark Your Calendar!
Office Ergonomics: Learn how to set up on the office environment to be ergonomically correct. This training will educate the participant in fundamental ergonomic awareness, common ergonomic office hazards, solutions for correcting hazards and preventative stretching and exercises to reduce fatigue while using a computer. 
Thursday, September 26th. 11 am to 1 pm 
Location: Columbia Safety & Supply
Cost: $20
Get first access to exclusive resources
Sign up to receive valuable tutorials & tools straight to your mailbox
Never miss a helpful tip!