Peak Ergonomics is the largest ergonomics consulting group in Missouri, serving over 50 communities in the Show-Me State.
---
Peak Ergonomics routinely provides service across the United States. Peak Ergonomics was formed in 2006 by Paul Krewson, an accomplished occupational therapist and professional ergonomist. Since that time a carefully selected team of experts have been put together who lead the field in physical therapy, occupational therapy, exercise kinesiology, and ergonomics. Our primary goal is to create healthy work solutions that maximize production and minimize the risk of injury. We are experts at reducing the ergonomic risk of the job and improving the healthy work capacity of the employee. All of our clients report their cost savings is tremendous, their OSHA recordables and worker's compensation claims have significantly decreased, employee morale has improved, and they are closer to their ergonomic goals. We have met with several thousand employees who are pleased and thankful for our services.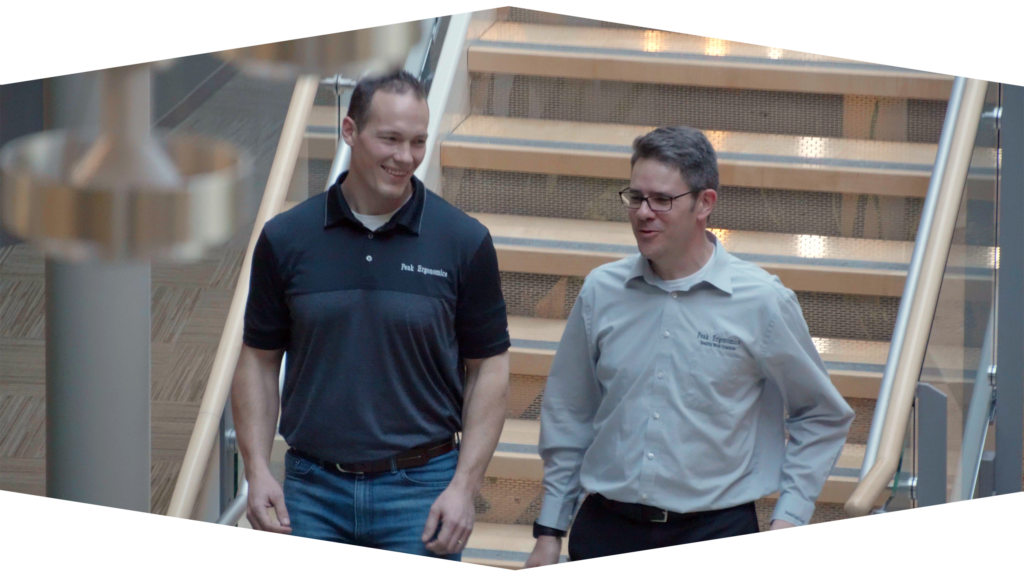 Paul Krewson                            EEIS, OT, CEAS III
Founder & CEO – Peak Ergonomics
-Occupational Therapist
-Ergonomics & Early Intervention Specialist
Paul Krewson graduated Magna Cum Laude from the University of Texas Health Science Center at San Antonio in 1997 with a Bachelor of Science degree in Occupational Therapy. Mr. Krewson became a Certified Ergonomic Assessment Specialist in 2004. Since that time, Mr. Krewson has dedicated his practice to the field of ergonomics and early intervention. Mr. Krewson founded Peak Ergonomics in 2006 and has created numerous successful early intervention programs. Mr. Krewson was the President of the Mid-Missouri section of the American Society of Safety Engineers in 2006-2007. Mr. Krewson was the President of Peak Ergonomics from 2006-2017. Mr. Krewson lives with his wife Janel, and three children Emily, Alex and Katelyn in Columbia Missouri.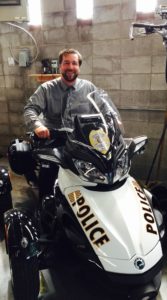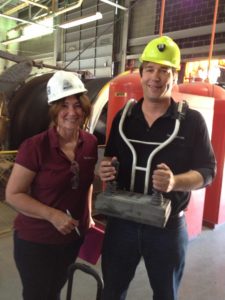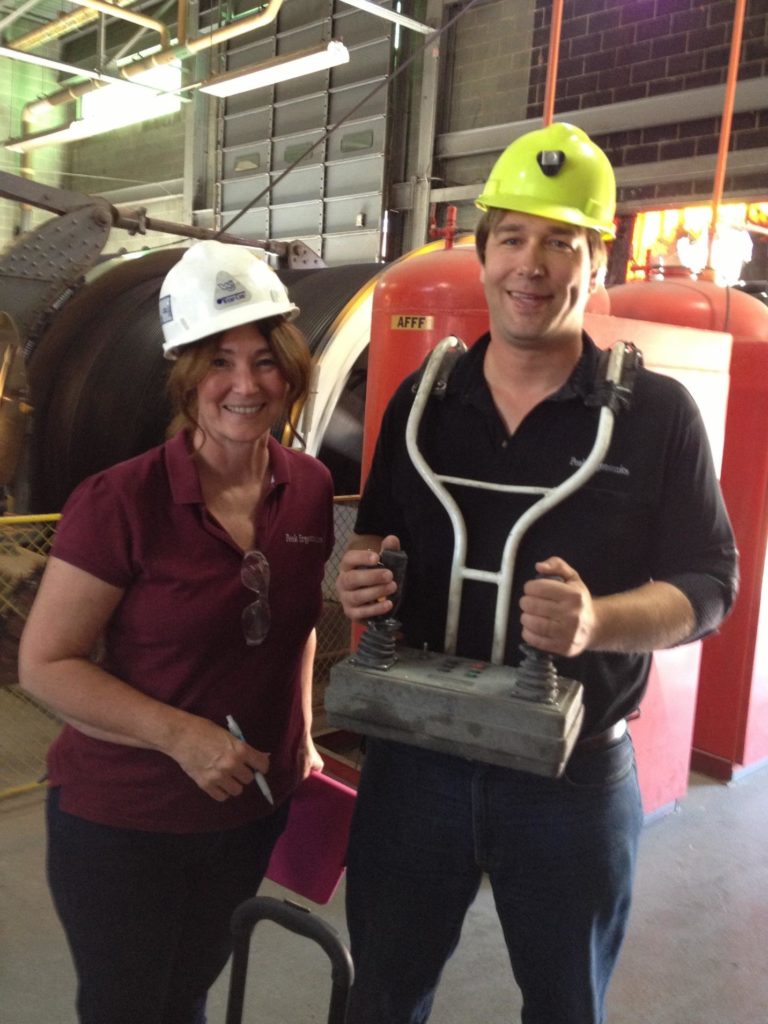 Kelly Epperson                          EEIS, CEAS III
President – Peak Ergonomics
-Business Administrator
-Ergonomics & Early Intervention Specialist
Kelly Epperson owned and operated three successful businesses before joining Peak Ergonomics in 2008. Kelly manages the day to day operations of Peak Ergonomics in her position as business administrator and became a Certified Ergonomic Assessment Specialist in 2011. She was promoted to President of Peak Ergonomics in 2017 and lives with her husband Mark in Hannibal Missouri. They enjoy spending time with their adult children Taylor & Rachel; and their three grandchildren Eliza, Gideon and Miriam. Kelly is a talented artist and hosts a painting class every Thursday night for her friends and family. Kelly is also the 4 times great granddaughter of the discoverer of Mark Twain Cave!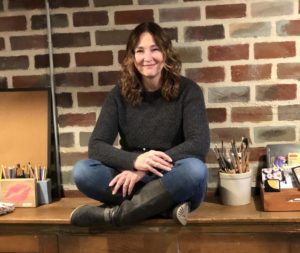 ---
Mike Tipton                          EEIS, PT, CWCE, CEAS
Physical Therapist
-Ergonomics & Early Intervention Specialist
After finishing his BA in Life Science at William Jewell College in Liberty, MO, Mike completed his MPT at Northwestern University in Chicago in 1996. Having trained in Manual Therapy during his time in St. Paul, MN he then transitioned to Columbia, MO in 1999 focusing on outpatient orthopedics. Since 2006, he has focused on ergonomics, early intervention, and industrial rehabilitation. He received his CWCE from the Matheson Group and takes pride in providing quality, defensible FCE reports assisting in return to work decision making for workers, doctors, and employers. He has advanced training in Job Analysis, Post Offer testing, Work Conditioning, Advanced FCE techniques among other topics. He earned his Eagle Scout as a youth and spent many years volunteering with the Cub Scouts when his boys were in grade school. He loves being outside working and has a special passion for cutting wood for his wood burning furnace. "I consider my greatest accomplishment being a father of 2 sons, 2 stepsons and a stepdaughter that keep us extremely busy yet provide much joy to my wife and me."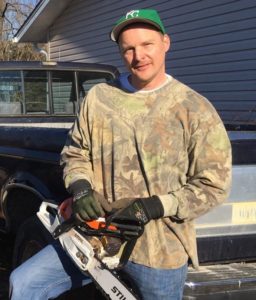 Taylor Epperson                          EEIS, BSKin, CEAS, CSCS
Kinesiologist
-Ergonomics & Early Intervention Specialist
Taylor Epperson graduated from Western Illinois University in 2011 with a Bachelor of Science degree in Kinesiology and a minor in nutrition. Taylor completed his internship as a strength and conditioning coach for the Mizzou track & field and football team. He joined Peak Ergonomic in 2014 and became a Certified Ergonomic Assessment Specialist. Taylor has been highly successful in performing early intervention, ergonomic job analysis, and employee training programs across a broad spectrum of industries. He is a competitive powerlifter, enjoys a life devoted to health and fitness, and lives with his wife Alyssa in Hannibal, Missouri. They are proud owners of two dogs (Sweetie & Indy) and a cat (Vader).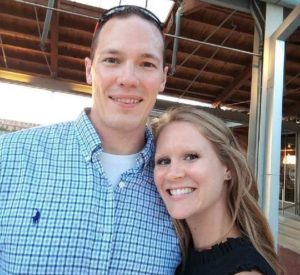 ---
Tyler Brown                          EEIS, PT, CEAS II, AOEAS
Physical Therapist
-Ergonomics & Early Intervention Specialist
Tyler Brown graduated Cum Laude from Maryville University in 2000 with a Bachelor of Science degree in Physical Therapy and became a Certified Ergonomic Assessment Specialist in 2007. Tyler is an expert physical therapist with advanced training and experience in the field of ergonomics and early intervention. He has lectured to numerous organizations and is an adjunct faculty at Jefferson College PTA program, as well as Ste. Genevieve RII school district for their Health and Occupation program. Tyler lives in Ste. Genevieve MO with his wife Jodi and 3 children Riley, Lydia, Landon and foster additional children. He enjoys competing in tough mudder events, running and bicycling with dreams of completing an IronMan. He is a coffee connoisseur with plans to begin a home coffee roasting operation soon. Tyler is the founder of Potential Therapy Services, an outpatient orthopedic Physical Therapy company with locations in Ste. Genevieve & Bonne Terre Missouri.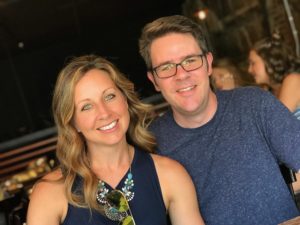 Taylor Lumsden                          EEIS, MPT, CEAS II
Physical Therapist
-Ergonomics & Early Intervention Specialist
Taylor Lumsden is a native of Southeast Missouri and graduated from Saint Louis University in 2001 with a Master of Physical Therapy and attained a bachelor's degree in Exercise Science. The scope of his practicing career has primarily been in outpatient orthopedics. According to Taylor, "The most enjoyable part of practicing Physical Therapy is building relationships with our patients. I enjoy that we get to spend more time with our patients than in most other fields of medicine. We really get to know our patients, their families, their goals and aspirations. It is very gratifying when we help people achieve their goals, and I especially enjoy when past patients stop by the clinic to let us know how they're doing!" Taylor is married and is a father of four kids. He enjoys coaching youth basketball and running the kids to their various activities. He is an avid outdoorsman and enjoys spending time with his family hunting and fishing. Taylor also does some woodworking and rides his road bike during the warmer months of the year.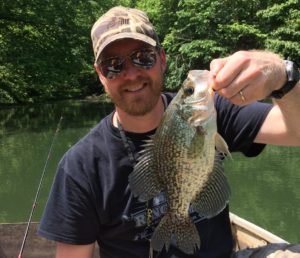 ---
Greg Weiland                          EEIS, CEAS, CIR
Physical Therapist
-Ergonomics & Early Intervention Specialist
Greg Weiland graduated from the Mayo School of Health-Related Sciences in 1982 with a Bachelor of Science degree in Physical Therapy and a Master of Business Administration from Grand Valley State University in 1994. He became a Certified Ergonomics Assessment Specialist in 2006 along with becoming a Certified Impairment Rater in 2007. Greg joined Peak Ergonomics in 2010 and performs ergonomic consulting services in Alabama. He is also the Center Therapy Director for Honda Manufacturing of Alabama and offers impairment ratings thru Impairment Rating Services of Alabama. Greg lives with his wife in Birmingham Alabama.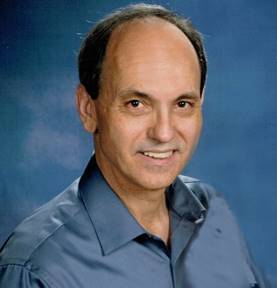 Travis Huffman                          EEIS, PTA, CEAS
Physical Therapist Assistant
-Ergonomics & Early Intervention Specialist
Travis has worked for the past ten years in the Ste. Genevieve area in a variety of therapy settings including: inpatient, aquatics, outpatient, orthopedics and home health. He received his Physical Therapist Assistant degree from STLCC- Meramec in 2006.  Travis was born and raised in Fredericktown, MO where he met his beautiful wife Kristen. He and his wife stay very busy raising their two daughters, Millie and Tess in Ste. Genevieve, where Kristen is an educator for the school district. He loves that therapy allows him the opportunity to contribute to the improvement of a person's quality of life, whether it is helping someone get back to work, get back on the court/field, resume a hobby they love, or just be able to regain their independence.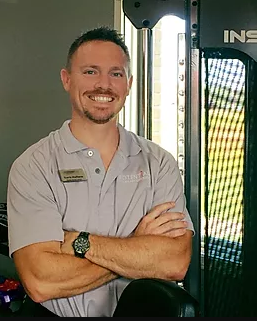 ---
Clementine
Senior Peak Pup
Clementine is an Australian Cattle Dog Border Collie Mix. She enjoys playing frisbee, kickball, tug of war, and performing tricks for treats. She enforces Ergo Breaks at the Peak Ergonomics HQ and will not let anyone sit for more than an hour.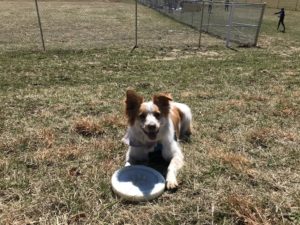 ---
Karl
Junior Peak Pup
Karl is a Boxer american staffordshire terrier. He is responsible for securing the outside perimeter at Peak Ergonomics HQ. He enjoys barking at birds and chasing them away.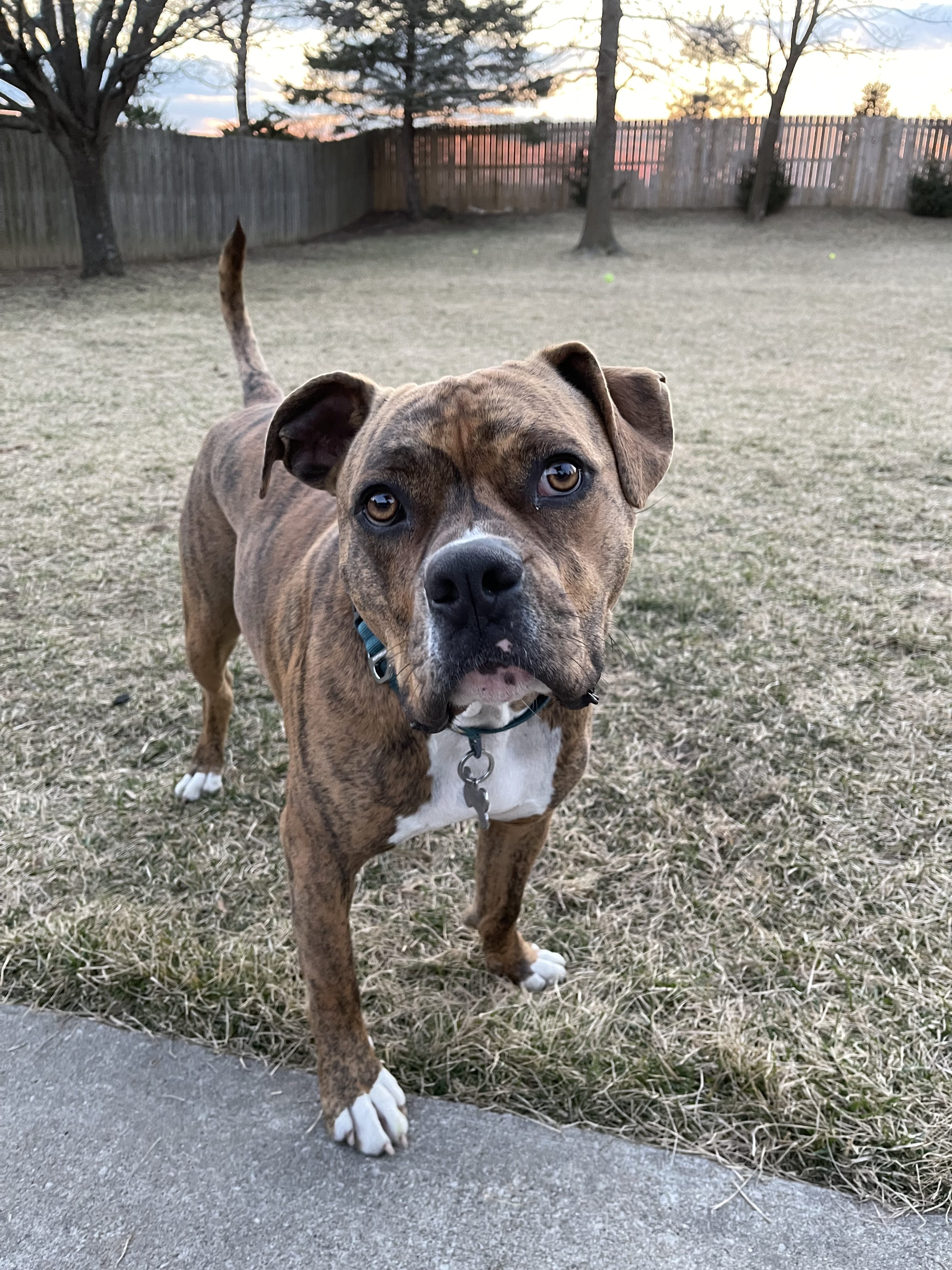 ---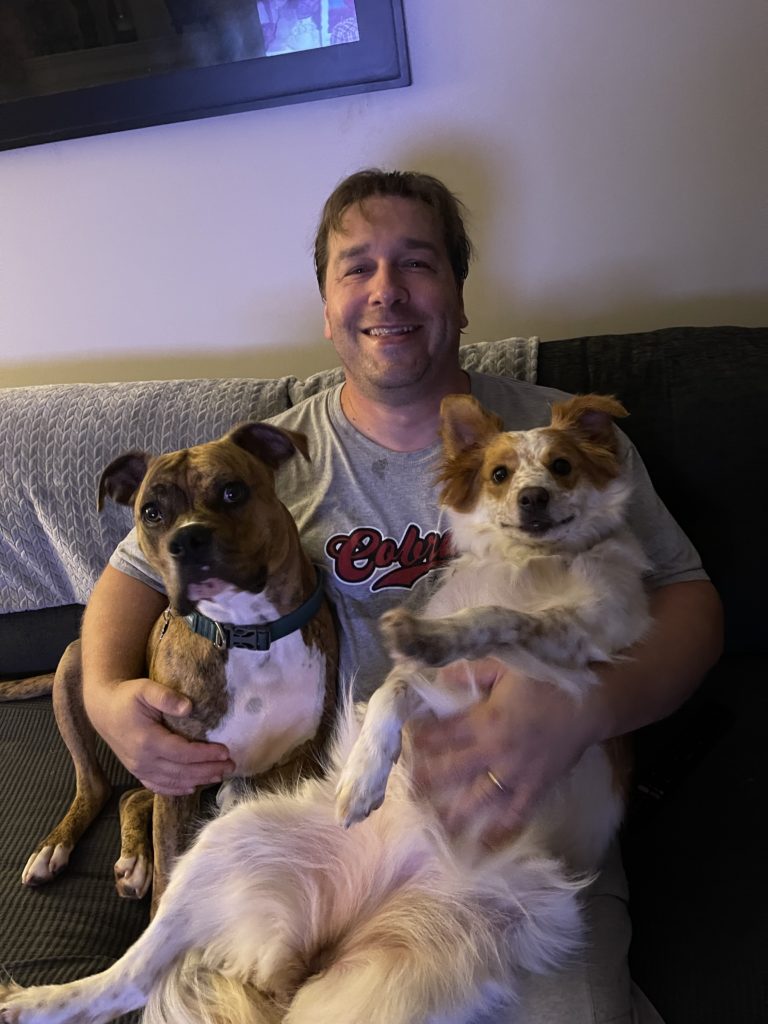 ---