Prevent Heat Illness at Work with These New Resources (OSHA)
Trench Safety Stand Down Week June 20-24, 2022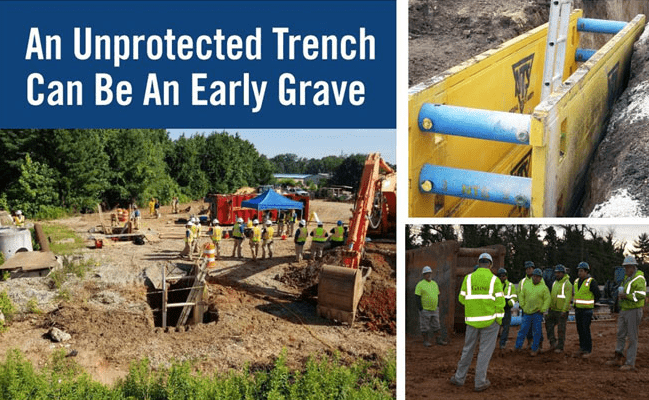 Visit the National Utility Contractors Association (NUCA) website for information and resources: Trench Safety Stand-Down Week.  During TSSD Week, United Rentals will be generously hosting a series of webinars covering a range or important trench safety topics.  NUCA highly endorses these events and encourages members to check them out via the link:  United Rentals/NUCA TSSD Week Webinar Series.
Additional Resources Available from OSHA's Safety and Health Topics Page: Trenching and Excavation – Overview | Occupational Safety and Health Administration (osha.gov)
Increasing Awareness of Factors that Influence Trench Safety
Moderator: Eileen Betit, CPWR's Research to Practice (r2p) Director
Presenters:
Scott Ketcham, Director, OSHA Directorate of Construction
Joe Wise, Regional Customer Training Manager at United Rentals Trench Safety
Dr. Alan Echt, Sr. Industrial Hygienist, NIOSH Office of Construction Safety and Health
Thursday, May 28th, 2020 (Play Recording, Download Presentation, or link to You Tube recording here).
Trench Safety Resource Files:
OSHA3974 – 5 Things to know to be Safe
OSHA's National Emphasis Program – Outdoor and Indoor Heat-Related Hazards
OSHA: National Emphasis Program – Outdoor and Indoor Heat-Related Hazards
The U.S. Department of Labor's Occupational Safety and Health Administration has launched a National Emphasis Program to protect millions of workers from heat illness and injuries.  As part of the program, OSHA will proactively initiate inspections in over 70 high-risk industries in indoor and outdoor work settings when the National Weather Service has issued a heat warning or advisory for a local area. On days when the heat index is 80oF or higher, OSHA inspectors and compliance assistance specialists will engage in proactive outreach and technical assistance to help stakeholders keep workers safe on the job. Inspectors will look for and address heat hazards during inspections, regardless of whether the industry is targeted in the NEP.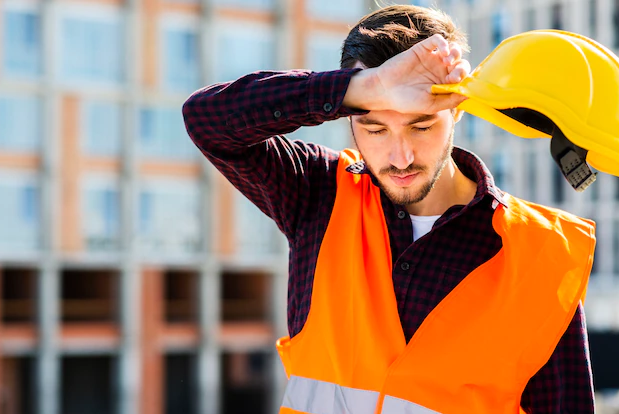 OSHA's area offices will engage in outreach to unions, employers in target industries and other organizations committed to advancing protections for underserved workers. The agency's On-Site Consultation Program, a free and confidential health and safety consulting program for small- and medium-sized businesses, will assist employers in developing strategic approaches for addressing heat-related illnesses and injuries in workplaces.
In addition, the agency will hold a public stakeholder meeting on May 3, 2022, to discuss OSHA's ongoing activities to protect workers from heat-related hazards, including the Heat Illness Prevention Campaign, compliance assistance activities and enforcement efforts. You can register for the event here.
For more information, see the Press Release and OSHA's webpage on working in outdoor and indoor heat environments. Please share this information with your stakeholders, as appropriate.
OSHA Initiates Enforcement Program to Identify Employers Failing to Submit Injury and Illness Data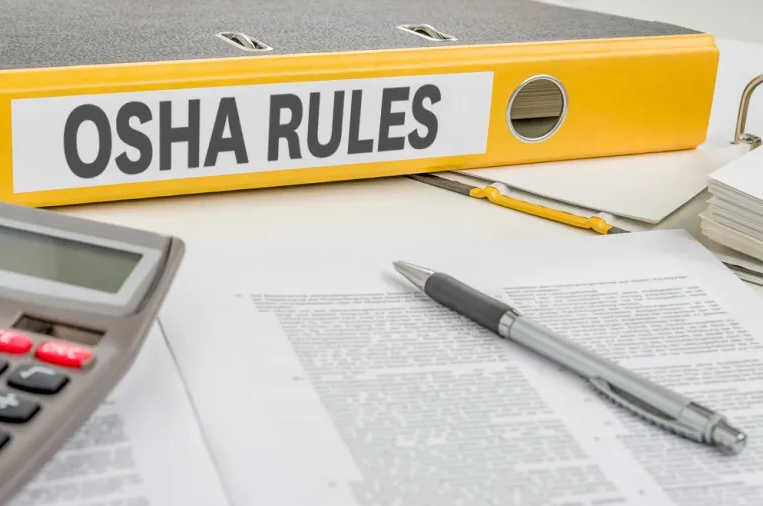 The U.S. Department of Labor's Occupational Safety and Health Administration is initiating an enforcement program that identifies employers who failed to submit Form 300A data through the agency's Injury Tracking Application (ITA). Annual electronic submissions are required by establishments with 250 or more employees currently required to keep OSHA injury and illness records, and establishments with 20-249 employees classified in specific industries with historically high rates of occupational injuries and illnesses.
The program matches newly opened inspections against a list of potential non-responders to OSHA's collection of Form 300A data through the ITA and reports all matches to the appropriate OSHA area office. If the area office determines that the establishment on the list is the same establishment where the inspection was opened, OSHA will issue citations for failure to submit OSHA Form 300A Summary data. In addition to identifying non-responders at the establishment level, the agency is also reviewing the 2021 submitted data to identify non-responders at a corporate-wide level. This corporate level review is being conducted for the nation's largest employers.
For more information, please visit OSHA's Injury and Illness Recordkeeping and Reporting Requirements website and Trade Release. Please share this information with your stakeholders, as appropriate.
April 2022 ***Focus Four Campaign Materials – Struck-By Hazards***

Attached is the second in a series of Focus Four Toolbox Talks (TBTs). April TBTs pertain to struck-by hazards.  In addition, please find the stakeholder campaign letter, sample toolbox trainer tips, sample toolbox sign-in sheet and various OSHA publications for your use.  OSHA, our state plans, consultation projects, and construction industry partners request that you share all campaign materials with your industry stakeholders, partners, and alliance members.  As noted below the Focus Four Hazards account for the vast majority of fatalities and serious injuries in the construction industry.
Help us spread the word and save a life! 
Please note that the Focus Four campaign is a four-month endeavor and additional toolbox talks will be sent out to stakeholders pertaining to fall and caught-in/between hazards.  The schedule for the campaign is below:
March – Electrical Hazards
April – Struck-by Hazards
May – Fall Hazards
June – Caught-in/Between
If you would like more information pertaining to the campaign, please feel free to contact me or our designated Focus Four email address, OSHA-Focus4-Region3@dol.gov.
Other toolbox talks can be found at:
https://www.cpwr.com/research/research-to-practice-r2p/r2p-library/toolbox-talks/ (English & Spanish)
https://www.agc.org/learn/education-training/lean-construction/lean-trades-toolbox-talk-series (varied topics)
https://gbca.com/hard-hat-chat/gbca-safety-toolbox-talk-tool-safety-when-working-from-heights-2/
Other attachments include
Struck By (changing bales): Fatal Facts (OSHA 3616 – 2012) (English: PDF)
Work Zone Traffic Safety Fact Sheet (2005) (English: PDF)
Work Zone Traffic Safety QuickCard™
(OSHA 3284 – 2007) (English: PDF) & (Spanish: PDF)
Thank you in advance for your support and participation.
Focus Four Campaign
The Focus Four Hazards have accounted for the vast majority of injuries and fatalities in the construction industry. In an effort to prevent future injuries and fatalities, OSHA, our state plans, consultation projects, and construction industry partners have initiated a "Focus Four Hazards" campaign from March through June in Region Three's jurisdiction.  The goal of this campaign is to raise awareness in the recognition, evaluation, and control of these hazards through the delivery of toolbox talks for employers to provide to their workers. These toolbox talks will be available during the campaign for employers to use at their own discretion.

Construction's "Fatal Four"

Out of 4764* worker fatalities in all industries in calendar year 2020, 1,008 or 21% were in construction―that is, one in five worker deaths last year were in construction. The leading causes of worker deaths on construction sites were falls, followed by struck-by, electrocution, and caught-in/between. These "Fatal Four" hazards were responsible for more than half (57%) of the construction worker deaths in 2020*, according to BLS reports.

·         Falls – 368 out of 1,008 total deaths in construction in CY 2020 (~37%)

·         Struck by Object – 83 (8%)

·         Electrocutions – 53 (5%)

·         Caught-in/between – 70 (~7%) This category includes construction workers killed when caught-in or compressed by equipment or objects, and struck, caught, or crushed in collapsing structure, equipment, or material.

Eliminating these four hazards would save 574 lives each year.

We ask that you assist us in promoting this campaign with your construction contacts and encourage your leadership to participate in these efforts to prevent future injuries and fatalities. To receive these toolbox talks, you can contact our Area Offices, Consultation Projects, or send us an email request at OSHA-Focus4-Region3@dol.gov.

We appreciate your assistance and support with this campaign.  We encourage you to provide feedback which will assist us in promoting future efforts and evaluating our impact in the construction industry. All voluntary feedback may be sent to OSHA's designated Focus 4 campaign account at OSHA-Focus4-Region3@dol.gov.  We thank you for your part in bringing awareness to these preventable incidents.
Download links for Focus Four Toolbox Talks:
Focus_Four_Stats_CY-2020-1.png
Focus-Four-Tips-for-Trainer-2022-1.pdf
Toolbox-Talk-sign-sheet-format-2022-1.docx
FHWA_National_Work_Zone_Awareness_Week_Factsheet_2022-1.pdf
OSHA-FF-3616_Struck-By-fatality-2012-1.pdf
OSHA-3284-Quick-Card_Work-Zone-Traffic-Safety-2007-1.pdf
OSHA-3284_Quick-Card_Work-Zone-Quick-Card_ES-2007-Seguridad-del-trafico-en-las-zonas-de-trabajo-1.pdf
OSHA-Work_Zone_Traffic_Safety-Fact-Sheet-2005-1.pdf
Struck-by-Toolbox-Talk-6-head-protection-1.pdf
Struck-by-Toolbox-Talk-1-working-around-equipment-1.pdf
Struck-by-Toolbox-Talk-3-workzone-driving-1.pdf
Struck-by-Toolbox-Talk-2-incident-1.pdf
Struck-by-Toolbox-Talk-4-equip-and-objects-1.pdf
Reduction of Work-Related Injuries – Cost Justification
Peak Ergonomics Reduces Workplace Injuries by 96%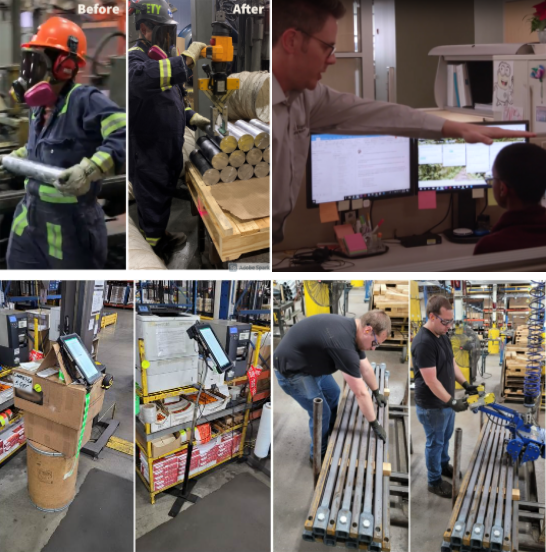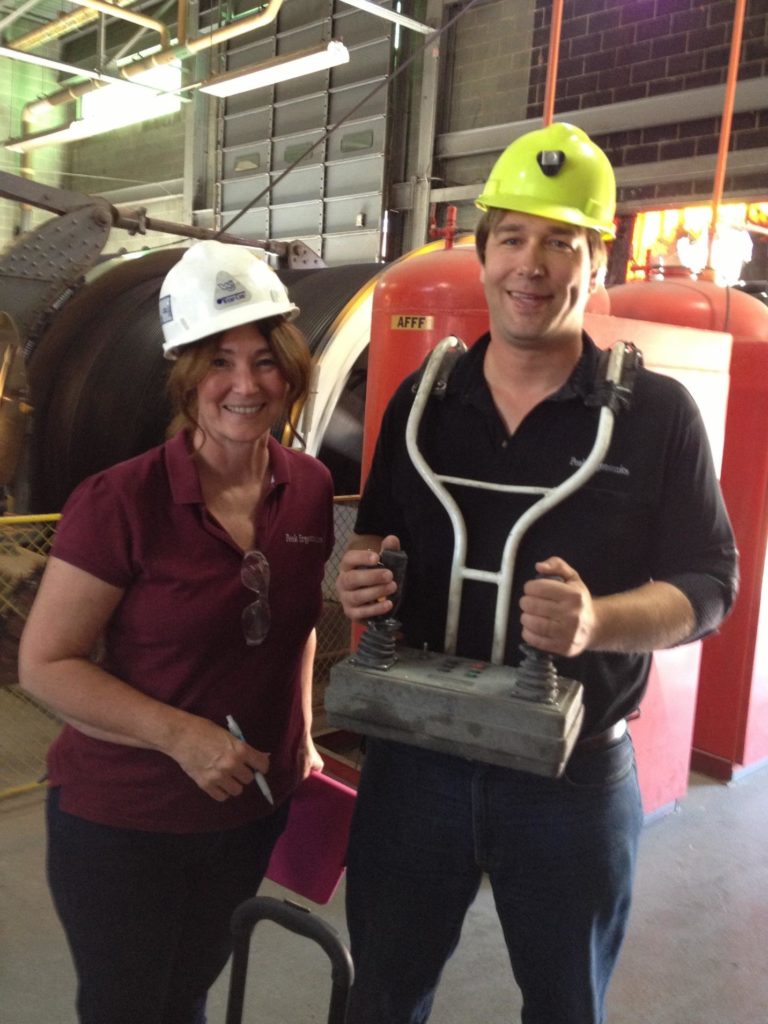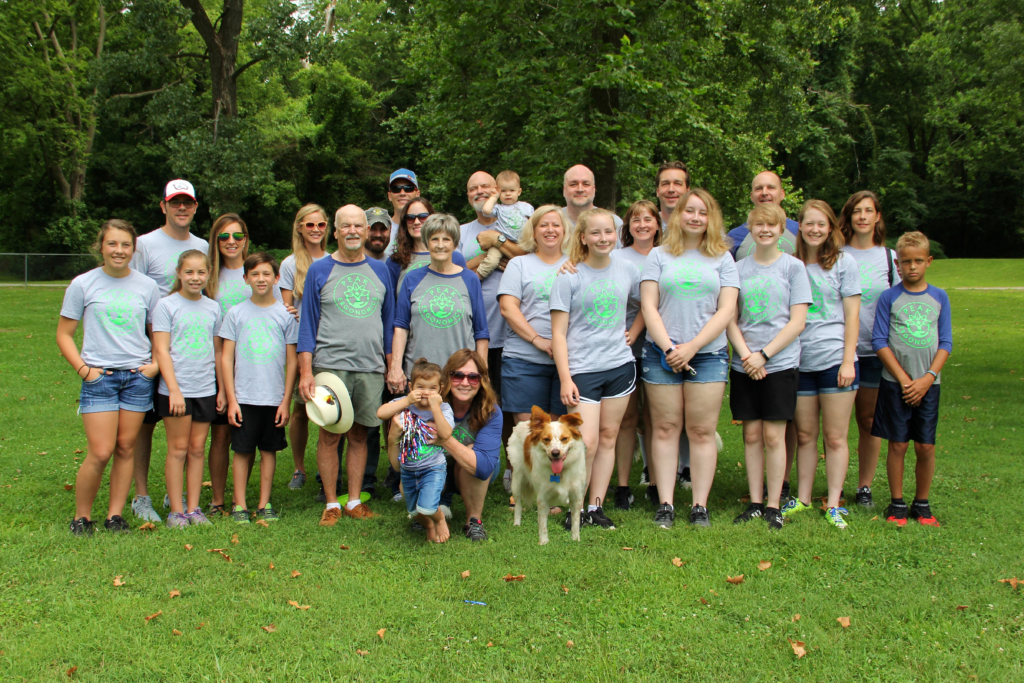 Since 2006, Peak Ergonomics has had over 20,000 early intervention cases with a success rate of 96%. As a result, we have saved our clients over 170 million dollars. In addition, when using a profit margin calculation of 10%, we have kept 1.7 billion dollars from being snatched away from our clients' sales due to workplace injuries and illnesses. We have one client who has gone six years with only seven injuries and several clients who only have a few injuries a year.
The reason we are so successful is because of our consultants. We go to great lengths to find high-quality, relational individuals with a high skill set. As a result, we find the best people to join our team. Honest, diligent, fair-minded, and hard-working are all personal attributes in each of our consultants. If you take the time to read our consultants' bios, you will read the stories of some remarkable people. Not only are they experts at reducing workplace injuries, but they are truly good people and devote their life to the betterment of society. They love their family, friends, and animals. They live a life of love and service. They are highly relational people, bringing everyone inside and leaving no one out.  When our team works with a client, we build relationships and genuinely try to make a difference in the life of each person we meet.
The core philosophy of Peak Ergonomics is to help others. When we meet with someone, we do our best to help the entire person. We are concerned with helping the employee achieve their peak potential. When we meet with a person with an issue with their hand, we look at the occupational risk factors, but we also look at their risk factors. Sleeping posture, hobbies, caregiving, uncontrolled medical conditions, and a long list of individual items may also need to be corrected to resolve their problem. We listen to the person and help them to the best of our ability. We give generously of our knowledge. We have created a video library of our preventive exercises and share them on our website with the entire world.
If the Peak Ergo philosophy resonates with you and you are interested in eliminating workplace injuries and illnesses, please reach out to Paul@PeakErgo.com or call 573.239.3666.   Contact us now for your Free Ergonomics Consultation and Quote.
Paul Krewson
Founder & CEO
Worker Exposure Risk to COVID-19
5 Ways You Are Sitting Wrong at Your Desk
Office Ergonomics Lunch & Learn – Sept 26, 2019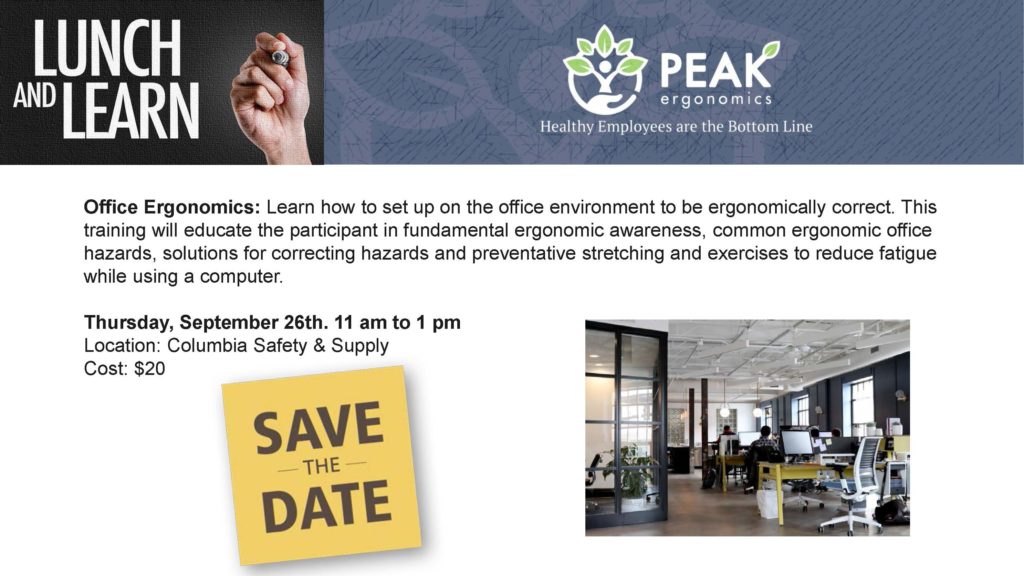 JAN – Job Accommodation Network